New Job, New State, New Life!
Hopefully, while you're finishing your senior year of undergrad, you're searching and applying for a job or applying for grad school—basically planning your next step after graduation! What if this involves uprooting and moving to a new state away from family, your favorite grocery store, and your family's trusted mechanic? Don't worry, moving to a new state can be exhilarating and full of rewarding experiences. And sometimes, moving cross-country is necessary to secure a job in your field. To make sure your move is successful and doesn't break the bank, here are some helpful tips.
#1. See if your new job will pay for part or all of your moving expenses. It's not an unusual part of a job offer, and you shouldn't feel bad for asking. Whatever your employer's answer, price out paying a moving company versus packing everything up yourself and driving a moving van to your new city. Remember it will be easier to buy furniture and even small things like cleaning supplies and cooking utensils once you move in because you won't have to pack, carry, or pay for someone else to move boxes of stuff you could buy later.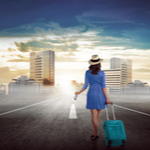 The exception to this is if your family has a membership to a warehouse club like Sam's Club or Costco and you're OK schlepping a few extra boxes or paying for them to be moved. You can get a great deal on bulk non-perishables like toilet paper, cleaning supplies, and laundry detergent at these stores, which will help your new budget in the months to come.
Bonus tip: Ask local retail stores—like grocery stores—if you can have their boxes after they receive new products/food. You'll get boxes of all sizes—for free!
#2. Plan out transportation in your new town. Do you have a car to bring with you? What will your new commute look like? Does the city have good public transportation, or could you reasonably ride your bike most of the year? If you bring a car, you'll need to reapply for a new driver's license, license plate, and registration. And you may need to get an emissions test within six months of moving, depending on the state.
#3. Set up a budget before you move based on the offered salary and the area's cost of living, so you know if you can afford to accept the position and still pay all of your bills. Make sure to include expenses like insurance, rent and utilities, food, gas and car maintenance, clothing, medical expense, entertainment, and those all-important student loan payments.
#4. Bring all of your medical and financial history paperwork with you. You'll need to find new doctors and perhaps set up a new credit union account. Your parents could mail or scan these and send them to you, but you'll want easy access to the account numbers and phone numbers you'll need to really set up life on your own. This is also a chance to let your credit cards and credit union know you'll be moving, so they don't freeze your accounts when they see charges coming from a new city!
Ask your employer if they will pay you for staying on your parents' health insurance until you're 26. This small boost in your monthly paycheck could really help your budget!
#5. Remember that it's OK to move and work at a job for a few years and then decide the location or the job isn't for you. Life on your own is full of taking chances and trying new things. If things don't work out, for whatever reason, don't think of it as a waste! You can learn so much about yourself and about making life decisions from this experience.
Life in a new state can be very exciting: new geography and possibly new climate, new friends to meet, new culture, new sites to see, and a chance to pursue what you want your life to be post-graduation. Do the planning and research now so when the time comes, you can enjoy the ride.