How to Host College Friends at Your Home Over Break
Read about hosting ideas when your roommate or other college friend(s) can't make it back home for the holidays.
Being away from home during the holidays and other school breaks can be rough. Many students are faced with the hard decision to wipe out their checking account to get themselves home, or to save the money but miss out on their favorite traditions. This is where a friend like you can step up and save the season (with your parents' permission, of course)!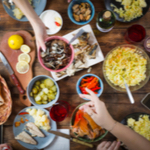 For Thanksgiving Break
Thanksgiving is all about inviting loved ones and friends—old and new—to the table to share in good food and in a spirit of gratitude. Being grateful for what you have can include inviting those who can't visit with their own families to join you.
See if your friends would each like to make their favorite Thanksgiving dish for your family meal. Or share some other tradition they would otherwise miss out on. If your family knows a lot of people without a place to go to for the holidays, turn the whole affair into a Friendsgiving, potluck style! If you and your friends are brave and adventurous, have each person make a dish using random ingredients assigned to them by other guests—like the TV show Chopped!
For Winter Break
Usually this break is longer than fall, Thanksgiving, and spring break, but that doesn't mean everyone can afford to go home. Travel prices close to Christmas are notorious for being steep! This is another opportunity to welcome a friend into your home and give them a chance to celebrate with you. Perhaps they could share with you how their family celebrates one of the holidays that your family doesn't. What do you know about Hanukkah? Or Kwanzaa, St. Lucia Day, Boxing Day, Omisoka, or Yule? A friend who celebrates different holidays could teach you a lot!
If having someone stay with you for three or more weeks feels like a lot, see if other local students could share hosting responsibilities. Maybe your friend could visit with another family for some of the time.
Opening and sharing your home and finding compromises when friends are in a tough spot is a life skill that will serve you long after graduation, as will some of the relationships you build when you open your door to another student around the holidays.